The Wolverine: A Cyberpunk Entry? Let's Find Out
Note: This is part of my ongoing series Is This Cyberpunk? where I look at different media in the Cyberpunk grey area, to help come to that ever-elusive definition of what Cyberpunk really is. In today's post, I will consider if The Wolverine counts as a Cyberpunk movie, or not.
He's certainly dark and broody enough…
Logan / Wolverine (the character)
The Wolverine is one of many Marvel X-Men movies, and one of several movies that focus specifically on Wolverine, played by Hugh Jackman. Although Wolverine has claws and super-healing, he was enhanced using advanced technology to give him an adamantium skeleton augmenting his body.
The Wolverine (the movie)
The Wolverine was a movie that came out in 2013 from 20th Century Fox and is both the sixth film in the X-Men film series and a sequel to the trilogy of stand-alone films focused on Logan / Wolverine's character. It's also a direct sequel to the 2006 X-Men film The Last Stand. Of all the X-Men and Wolverine movies, I took a particular notice of this movie because of its setting in Japan. The story follows Logan as he flies to Tokyo to meet an old acquaintance, which leads to him getting embroiled in a family power struggle involving ninjas, samurai, and a loss of his super-healing powers.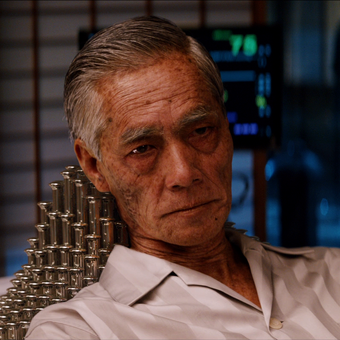 A Familiar Adage
One of the interesting things that struck me when watching this was an early line in the movie: "Yashida is old fashioned: one eye on the past, and the other on the future". This reflects a lot of the Yakuza-style Cyberpunk that we've seen, including in such works as Altered Carbon, Neuromancer, and Snowcrash. Traditions and honor can last generations, while technology continues to develop and innovate at the same time.

Some High-Tech
We get our first glimpse at high-tech with the cutting-edge sick bed that the company executive, Yashida, is using. Wolverine then glances at screens as Yashida takes some tea from his aide, and the viewers can see tiny robots repairing what appear to be X-rays of Yashida's failing organs. "Yashida industries can do anything" Yashida proclaims, as he offers Logan the bait: an end to his eternity, to his both blessing and curse of super-healing.
A Familiar Face
As the movie progresses, I suddenly recognized a familiar face I hadn't recognized before: Will Yun Lee! Also known as one of several Takeshi Kovacs from Altered Carbon! And dressed in black as a modern ninja of sorts, he looks awesome!
Cyberpunk Elements
Sunglasses, leather jackets, tattoos, Yakuza, ninjas, and Taiko drums leading a parkour-style chase through Tokyo all make for compelling Cyberpunk action scenes and visuals.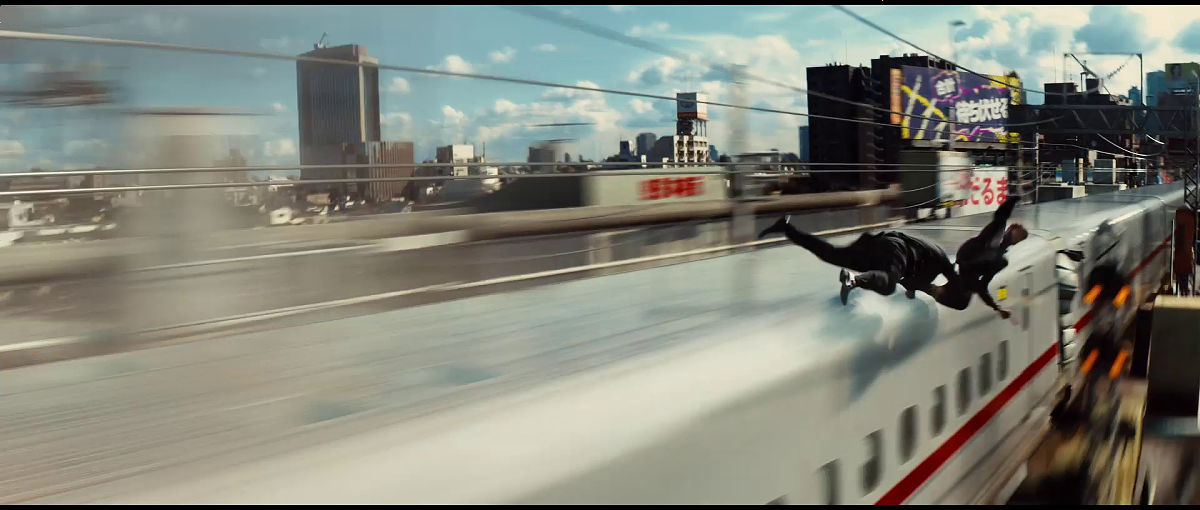 There is even a fast-paced fight on top of a Shinkansen (bullet-train)!
47 minutes in, Logan decides to hide Mariko in a pod hotel that looks very cyberpunk indeed.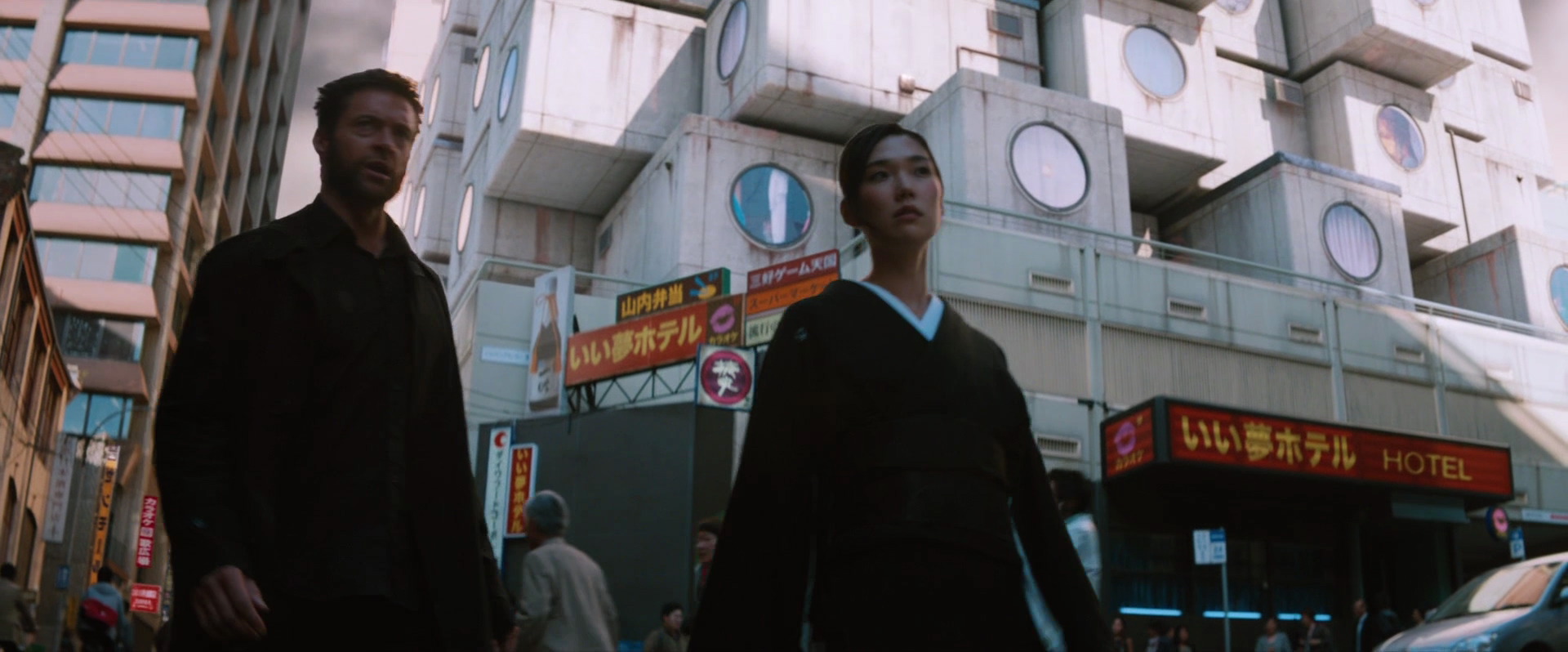 It turns out to be a love hotel! Between the three options of a nurse's room, a dungeon, and a mission to mars: they choose the latter.
The rooms ends up having even more cyberpunk lighting, and reminds me of the many Cyberpunk stories that do indeed feature the red planet. Examples include several stories from Philip K Dick, the original Total Recall film, and finally the Broken Angels novel and Altered Carbon Season 2. I wonder if it was at all inspired by these works or simply a coincidence!
The Cyberpunk-like movie shots are really piling up at this point. There are two dark rain-set scenes already, with somewhat neon lights–just like the iconic "tears in the rain" scene reminds us of from Blade Runner.
Logan keeps on having hallucinations of Jean Grey. She visits him in the Love hotel as well, as an apparition in the rain illuminated by neon lights outside his window. It's beautiful.
Cultural Commentary as a Sub-Theme
The Wolverine is also a beautiful movie at times because it's both a subtle and not-so-subtle commentary on the differences in tradition between Japan and the United States, which is similar to many movies where one of the characters travel to a foreign land with different customs and has to acclimate himself or herself to the new culture and customs. Moments where Logan has to be told to bow, or to not stick his chopsticks in his bowl, are more obvious than other moments where a subtle sense of tradition and proper order permeates everything the Japanese do.
Some Bio-Gore
The movie then settles down, before turning to a bit of bio-gore as Logan has to heal himself in an undeniably gruesome way. I won't spoil that part with any pictures.
Concept Art
Mecha-Samurai
The giant electro-mechanical Samurai robot is somewhat reminiscent of the Terminator. It's a giant, fearful thing, both Japanese and Cyberpunk in vibe.
Non-Cyberpunk Elements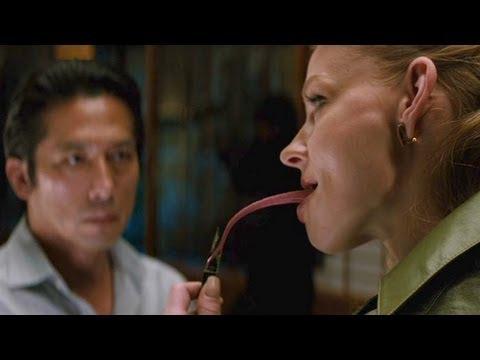 Mutants with various abilities, like being able to see the moment of someone's death or having viper-like abilities, add a dose of fantasy that is decidedly not Cyberpunk. Also, on the whole the film is not very futuristic or high-tech at all. There is also no mention of a dystopian world, it's rather centered on the present day. This is probably one of its biggest detractors from being a considered a Cyberpunk film.
Final Verdict and Review: Great Movie, Many Cyberpunk Visuals, but not Cyberpunk
This is not a Cyberpunk movie. The high-tech elements are too few and far between, there is very little punk about this, and there is no hacking or virtual or online internet elements at all. Despite one giant corporation appearing in the film, the conflict is completely self-contained within the company itself–it has no social commentary or dystopian society–and is thus ultimately just another Wolverine adventure.
The Final Word?
So that's how I feel about the movie. But what do you think? Have you seen it? Do you agree with my verdict? Why/why not? Feel free to have the final word in the comments below.