Continuing the Altered Carbon Universe
Altered Carbon: Resleeved is the latest Cyberpunk movie to stream on Netflix. A Japanese anime movie spin-off, it is set in the Altered Carbon Universe and features Takeshi Kovacs and Taneda Hideki on planet Latimer. In return for wiping his slate clean on Harlan's World, Hideki hires Kovacs to protect a tattoo artist in order to investigate another faction of the Yakuza clan. The visual style is done in 3-D anime, which strongly resembles the Borderlands aesthetic. For me, it took some getting used to, but after the first 5 minutes I was able to settle in for the ride and forget about it.
The characters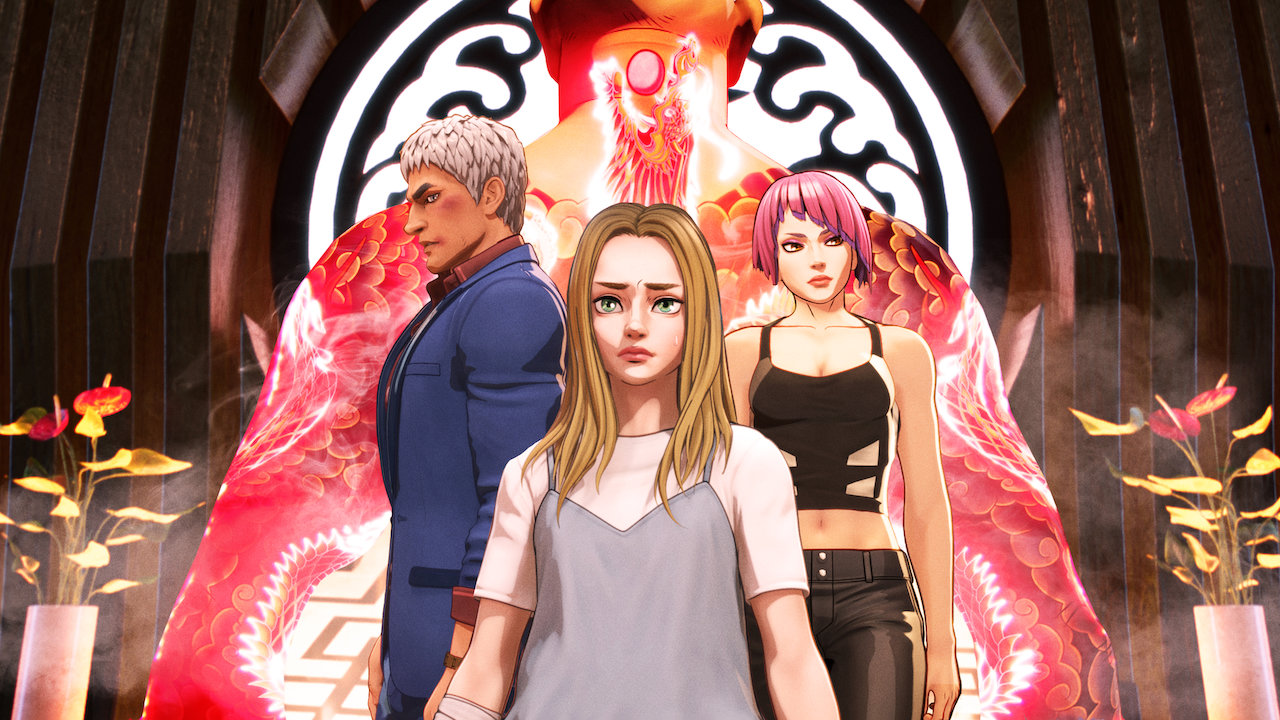 You may know Takeshi Kovacs well enough from the two live action seasons on Netflix. This movie has him in another sleeve, of course, in a suit with short white hair. Quickly after he meets in virtual with his employer, Tanaseda Hideki, he meets the Yakuza clan tattoo artist he's supposed to protect — the young Holly Togram. At the same time that he tries to protect Holly from various mysterious ninjas that attack her, she is also wanted by CTAC. When the leader of CTAC, Gena, finds Holly, she reluctantly agrees to team up with Kovacs in protecting and using Holly to infiltrate the Yakuza clan in order to unearth the secret of why she is wanted dead so badly, and by whom. We also meet Shinji, the other Yakuza clan leader who is Holly's employer, and Ogai, an AI butler and manager of the AI hotel The Wild Geese.
A New Takeshi Kovacs (again)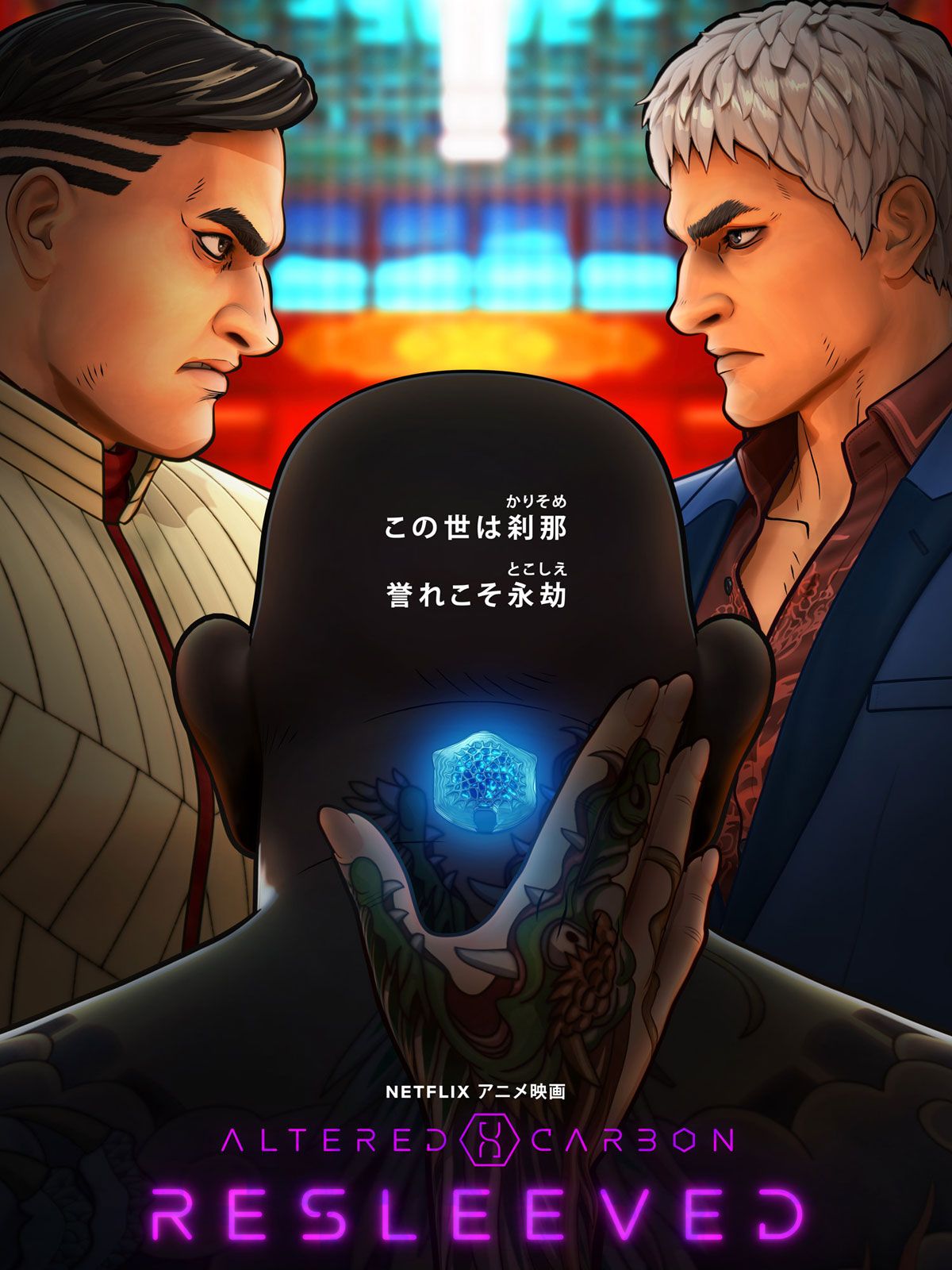 Although a short film at under an hour and a half, this movie kept my attention from beginning to end. Kovacs here is no brooding film-noir type like we saw in Season 1, nor the Quell-obsessed idealist in Season 2. Rather, he is a protective big brother figure and still very much a bad-ass. I quite enjoyed watching him team up with Gena as they fight faceless deadly ninjas again and again.
Oh. Did I mention they have ninjas in this movie? Because they do. In ample supply, and it's awesome!
Ninja-Fest
These ninjas throw ninja stars, use smoke and strike from the shadows, and have a variety of different weapons–not just katanas! They also appear in various different styles, from hooded street hoodlum (above) to futuristic visor-toting assailants, and finally as bad-ass samurai-style ninjas. As you will see, they're quite difficult to kill!
A Distinct Genre of Film
The story of this movie definitely takes a bit of a step back to the action, and if you like Japanese Yakuza ninja-style action, then this is definitely the movie for you. If you prefer a detective film-noir, however, this won't be for you. I also noted that while there was plenty of neon lights to feast your eyes on, if you don't care for the Japanese aesthetic and prefer more cyborgs and futuristic tech elements, you might be disappointed. Although firmly rooted in the Altered Carbon universe, the movie doesn't play around much with its parameters like seasons 1 and 2 did. This is truly an action-focused film, a nice stand-alone entry in the Altered Carbon Universe. Which is why the lead-up to the final epic showdown is so excellent. It's fast-paced, completely brutal, and very well done. The style of this film is absolutely in the anime style, which makes sense considering the origins of its creator (Dai Sato was also a writer for Cowboy Bebop and Ghost in the Shell: Stand Alone Complex).
Final Verdict: 7.5/10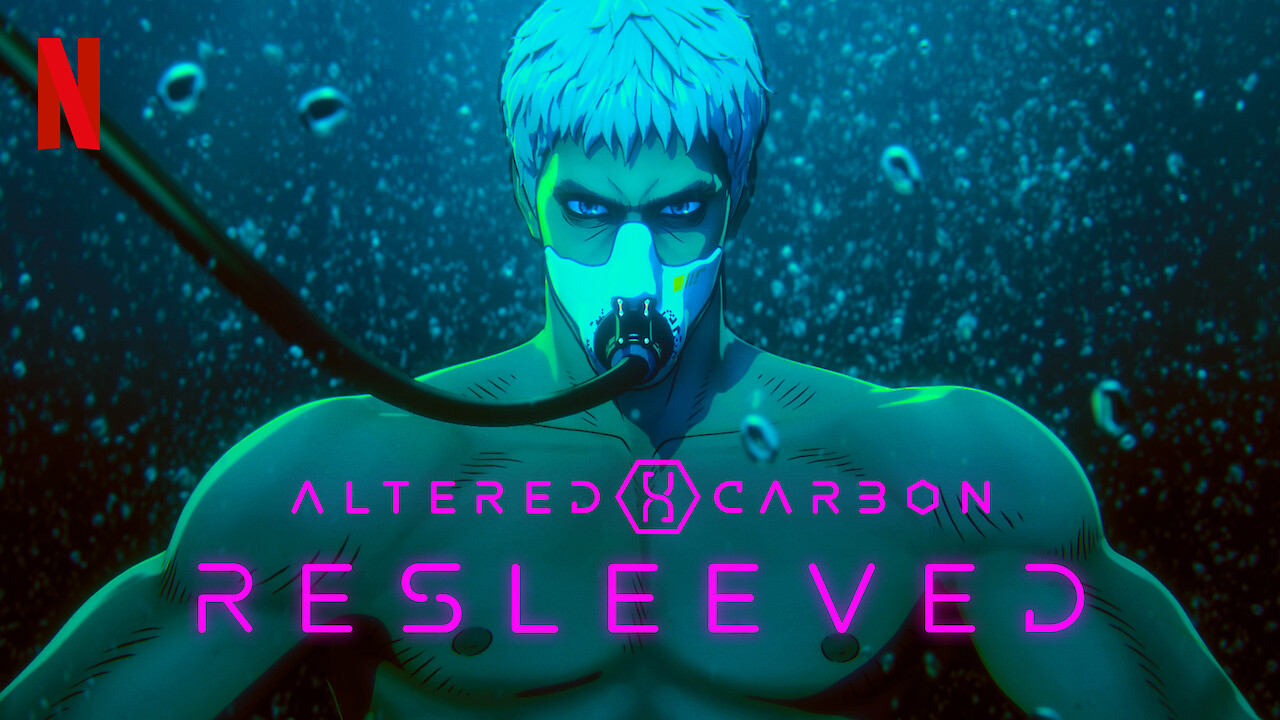 I really enjoyed watching this movie, and if you're a fan of Japanese Yakuza, Ninjas, and epic brutal fighting, then you will too. With a decent musical score and voice acting, this movie's incredible action sequences and beautiful visuals make up for its lackluster characters and somewhat shallow themes. The story delivers a brisk pace with enough intrigue to keep the viewer's attention, and while not as full of high tech or futuristic world-building as other Altered Carbon stories, it does have sprinkle enough throughout it to remind the viewer this is no ordinary Earth. I give this movie 7.5/10.
Now it's your turn
Did you see Altered Carbon: Resleeved? What did you think? Let me know in the comments below, or on twitter at @cyberpunkmatrix.