Matrix 4: What 2020 Updates we know so far as of March 15th
It is now mid-March and I just realized I haven't provided an official Matrix 4 production update since last December 2019!
So without further ado, here's everything new that's happened with Matrix 4 Production since then:
New Casting announcements:
Max Riemelt (Sense 8)
Riemelt is a 36 year old German actor mostly known for his work with the Wachoskis in their Netflix series Sense8 as Wolfgang Bogdanow. Apparently, he's also well known in Germany for acting and directing.
Priyanka Chopra (Baywatch, among others)
Chopra may be a little more well-known than her Matrix 4 peers. Chopra is an Indian actress, singer, producer, and winner of the Miss World 2000 pageant. Named one of the top 100 most influential people by Time and one of the top 100 most powerful women by Forbes, Chopra is also a vocal defender of social causes like women's rights and the environment. Oh and she's also the wife of Nick Jonas. This created a lot of buzz for the casting, as no one knows who she will be playing. One thought that I had (and wasn't alone, apparently) was that maybe Chopra could be replacing Monica Belucci as the Merovingian's beau.
Andrew Caldwell (iZombie)

Andrew Caldwell is an American actor from Michigan whose most prominent role was being cast as Harley Jones in the third season of the CW series iZombie. He is probably one of the least well known casting choices of the actors announced, so we'll see what his role is and how he does in Matrix 4.
Brian J Smith (Sense 8)
Brian J Smith is an American actor from Texas who is another Sense 8 alum, working with the Wachowskis as Will Gorski. He's also played lieutenant Matthew Scott in the TV series Star Gate Universe, and was nominated for a Tony award for his role as Jim O'Connor in the 2013 revival of The Glass Menagerie.
Ellen Hollman (Spartacus)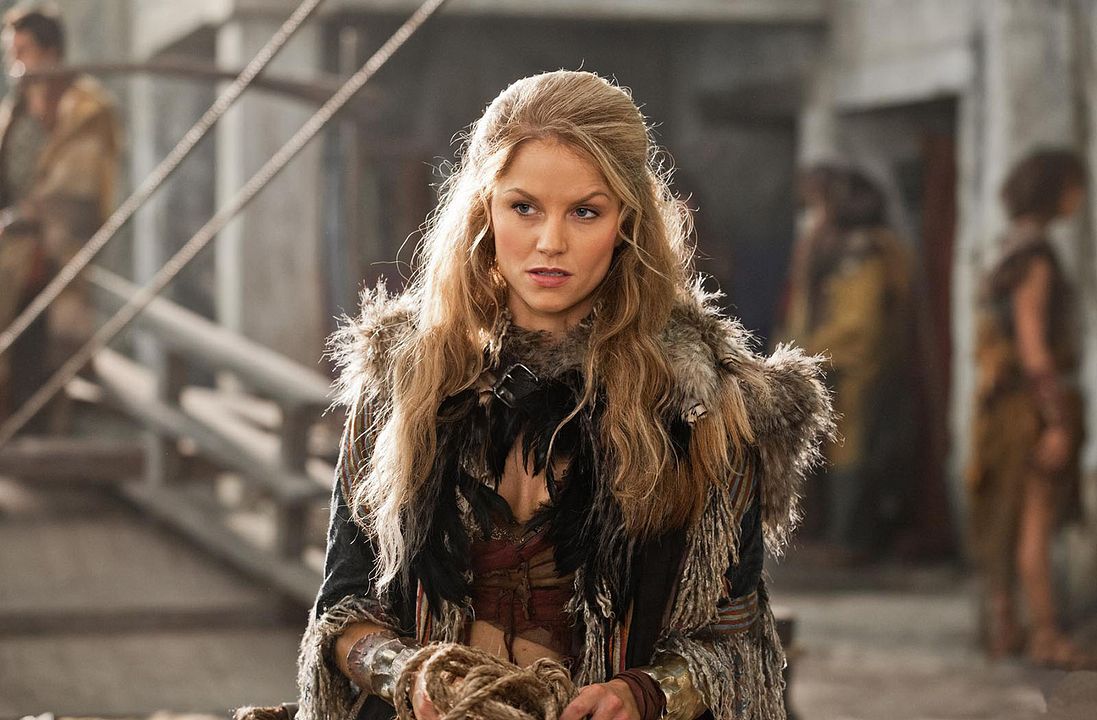 Ellen Hollman is an American actress from Detroit, Michigan and is perhaps best known for her roles as Saxa in Spartacus and Regent Warrior Zypher in AMC's Into The Badlands. Considering many of her roles have required intensive fight scenes and have been physically demanding, I'm excited to see what fighting role she will probably take up, especially considering she's trained in Jiu Jitsu.
Lambert Wilson (The Merovingian, Matrix Trilogy)

Probably one of the most exciting announcements we've heard is that Lambert Wilson officially confirmed that he will be returning! Wilson is of course the smooth-talking, philosophy-waxing Frenchman and power-hungry rogue program that antagonized Neo, Morpheus and Trinity in Matrix Reloaded and Matrix Revolutions. Glad to have you back, Wilson!
Not returning: Hugo Weaving (Agent Smith, Matrix Trilogy)
Unfortunately, due to scheduling difficulties, Hugo Weaving will not be able to return as Agent Smith in Matrix 4. Few could forget his memorable performances in all three Matrix films opposite Keanu Reeves, but his departure can be easily explained story-wise, as Neo sacrificed himself to destroy Smith at the end of Matrix Revolutions. The new agent or agents could be played by anyone for Matrix 4, but my hope is that their diction and slow eloquence match the excellence that Weaving delivered. Because if not, he will be even more sorely missed.
Matrix 4 filming in San Francisco: Explosions, stunts, and property damage.
Filming in Alameda and San Francisco, California began in February and ended beginning March. Which is just as well, too considering that if they had planned filming any later in March or April, things could have been delayed due to the Coronavirus.
As it is, people in both Alameda and San Francisco were treated to some sneak peeks of what the film has in store for us. I should warn you that while I could not resist looking at these photos, part of me regrets doing so, because now I will be looking out for these scenes in the film once it is finally released. So if you don't want to have any spoilers whatsoever for Matrix 4, GO NO FURTHER!
However, if you're like me, continue scrolling down. I chose to select the most representative images of what happened, so you can see what kinds of things are in store without having too many revealers. Of course if you want even more images, you are welcome to google them yourself, or find them on twitter, where you will find plenty.
Filming on set in Alameda
The first image we saw was this film set behind barriers on set in Alameda. This is where they filmed the set performances for the previous Matrix movies as well. It looks like from the suspension cables and the high altitude on these crates, that it could be that some jumps or flying stunts were filmed here.
Stunts between Skyscrapers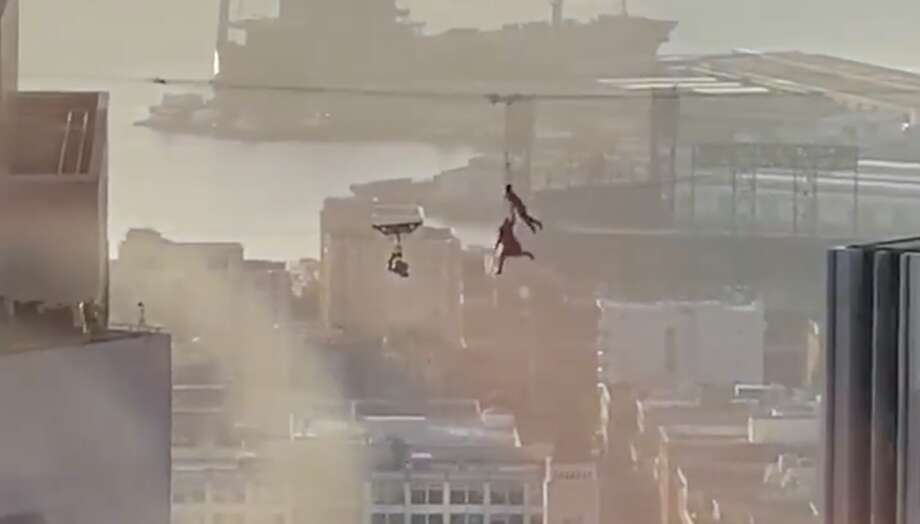 The stunts didn't stay on set, however. We were then treated to these images and videos of daring stunt work with two actors dangling from cables suspended between two different skyscrapers in downtown San Francisco. It looked like the character above, who resembled Trinity, was teaching the character below her, who could have been Neo, how to jump and/or fly in what presumably is the Matrix. Whatever it is, I can't wait to see what's happening here on the big screen! It looks like they got some great shots!
Street Shots near House of Nanking in Downtown San Francisco

As you can see from the text, we were then treated to multiple different shots of screening in downtown San Francisco, right next to the chinese restaurant House of Nanking. Here we see a grizzly-looking Keanu Reeves in plain clothes walking down the street with what are presumably extras. What happened to Neo, and how is he back in the Matrix? What's also convenient here is that Lana Wachowski stands out like brilliantly shining lightbulb, easy to pick out with her neon dreadlocks. She seems very secure in her direction of the scenes, and as far as I can tell, she's doing a great job! In the Wachowskis we trust!
Neo and Trinity reunited at last on the back of a motorcycle
This shot is one of the ones that made me most sentimental. Here we have a clear shot of once again a grizzly-looking Neo holding onto the shoulders of his lover Trinity as she drives both of them on a motorcycle. The motorcycle was attached to rigging part of the time to allow for easy filming of the scenes, which included some smoke machines in the streets of San Fran. I decided not to show any further pictures for the sake of spoiling the magic of filming, but needless to say I am super excited to see these two back on the big screen, and it's very cool to see a sneak peek of what they will both look like in the film.
Hovering Helicopters in Downtown San Francisco
This shot came as little surprise, as the announcements for filming in San Francisco for residents including warnings of explosions, gunshots, and hovering helicopters. But it was super cool all the same to see both shots and video of two black military-style helicopters hovering overhead in the streets of San Francisco, as well as the subsequent planned explosions. Matrix is back, and big as ever!
Minor Property Damage from Explosions and Heat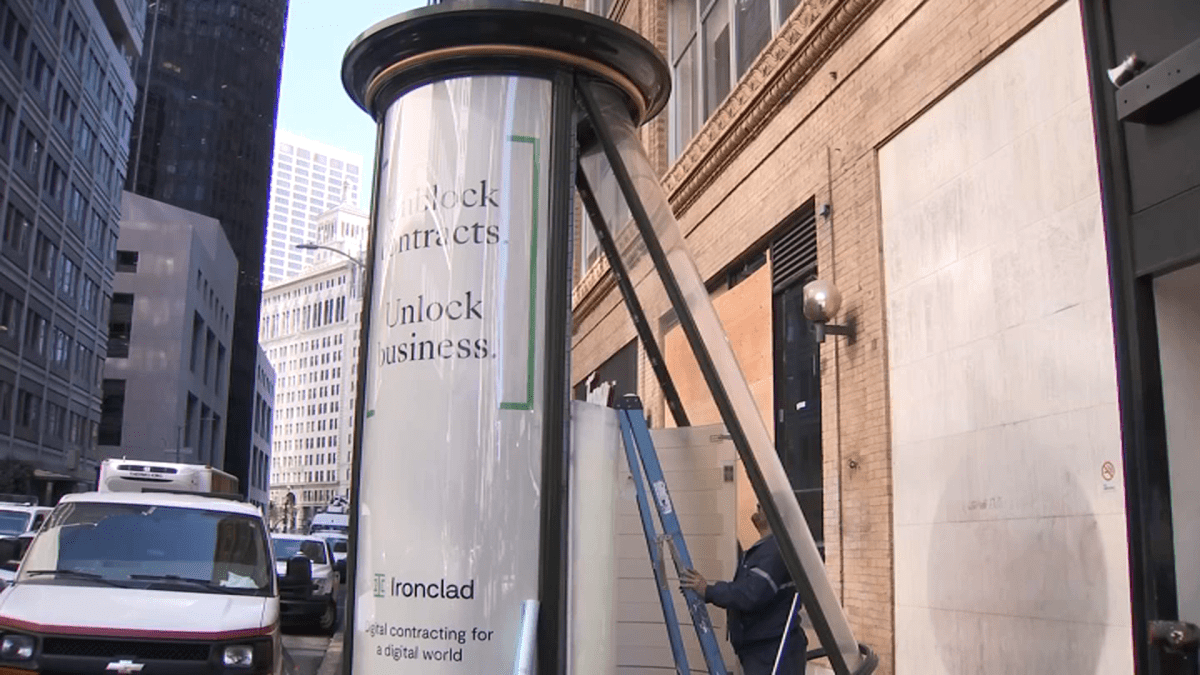 What wasn't anticipated by the crew, however, is that the intensity of the explosions caused a window to shatter and the plastic covering some marketing signs and lampposts to melt from the heat of it all. Notice the slightly melted lamp post on the wall above. The filming crew will of course pay to replace anything they destroyed, however, and I think this speaks to the vision and ambition of Lana Wachowski that they're not messing around with Matrix 4! It'll be some intense explosions and action scenes indeed!
Looking to the future
For now, Matrix 4 is planning to go ahead and film as planned in Berlin and in California despite the worldwide Coronavirus pandemic. However, the situation is continuously changing, and many other movie productions have halted or delayed due to the Coronavirus. Others have delayed their release date due to movie theaters being closed. So what does this mean for Matrix 4? Since its release date of May 21st, 2021 is still so far away, I think it's safe to say that the release date won't be affected. I hope that the production won't be forced to halt or be delayed, but if so, that could affect its release date after all. Regardless of the production crew's decisions, here's to hoping all involved stay safe!
Did you like this blog post on 2020 Updates for Matrix 4? Then share it with a friend on social media so they too can stay plugged into the Matrix!