Edge of Tomorrow is what happens when Elysium and Starship Troopers meet Groundhog Day. Featuring Tom Cruise and Emily Blunt, I was happily surprised to rediscover this gem of a sci-fi adventure that I would argue is close enough to Cyberpunk to warrant a review, although I'll admit it doesn't fit the CP moniker too snugly.
What's it about?
Edge of Tomorrow is a 2014 science fiction action flick from Doug Liman (Bourne Identity, Mr. and Mrs. Smith) that is based on the Japanese light novel called All You Need Is Kill from Hiroshi Sakurazaka. It is set in a future where most of Europe has been invaded by an alien race, and major William Cage (Cruise) becomes an unwilling soldier stuck in a time loop reliving the same day's battle every day, resetting only whenever he dies. Despite a more modest performance in the US, it performed well internationally, which is shame because this is actually a really good movie.
Other than excellent performances from both Cruise and Blunt (I really liked the fact that Blunt is depicted from the very beginning as a complete badass nicknamed the "Angel of Verdun") the fast pacing and tight direction from Doug Liman make this film a heart-stopping delight to watch, and even despite seeing repeat scenes as a natural part of the time-loop premise, it somehow doesn't get old.
If you're a Matrix fan like I am, then you'll find some similarities in scenes that I haven't seen in any other movies that get the fast-paced and gritty-world textures just right. The Mimics, one of the aliens, feels very similar to the sentinels in the Matrix.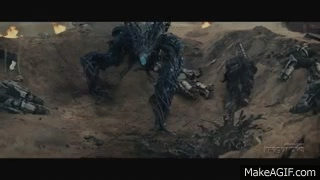 The giant guns, gun turrets on airborne vehicles and mech-suits also feel right at home. The score for this film was also very good, it added to the tension nicely. The special effects were also excellent, and there is a real tension in the air that the enemy is nigh-impossible to kill, along with a fear for the characters being ripped to shreds (again, not unlike the matrix). That is, death is practically guaranteed against this enemy unless if you get to try again. And again. And again.
I wasn't the only one to really enjoy this movie. Click above to see 5 reasons why you should see Edge of Tomorrow, which is now available to stream on Netflix.
If you like this movie, I'm happy to report that a sequel is currently in the works according to Vanity Fair. I can't wait to see the dynamic duo of Blunt and Cruise return, and where they decide to take this story in the next installment.
Rating
I would give this film a 9/10 due to excellent acting, special effects, music, direction, and plot. The only reason why I have to take off a point is because this film doesn't leave you walking away with any deep insights or seeing the world in a different way. It takes you away from the real world for a couple hours, but it doesn't stick with you like some other films might.